Denise Fox explained the process so well. She knew what our home was worth and she got the home to sell for the price we had hoped, in fact it sold above listing price. The photographer she chose to photograph our home really showcased it. All aspects of dealing with Denise were professional at the highest plane.

Denise had been the real estate agent that helped us purchase our home in Spokane in 2005. The experience was fluid. Although there were some sticky situations with the seller, she made it all smooth out and make the purchase go through easily. She really fought for us and made sure we had the best situation possible, and she did it tactfully so both sides were happy with the process and end result. She is a true professional and one we wanted to represent us as we sold our home.

We could ask Denise anything at any time. She always responded promptly. Even though she has had years of experience and had heard all the questions we asked before, she regarded each inquiry as important. Her explanations were thorough, honest, and she was patient in finding out if we had all our questions answered. She was so helpful when we needed advice in giving unbiased answers. Her only bias was to make sure our interests were taken care of. In fact, when we went on a house hunting trip out of Washington, we called Denise about a situation that was happening and we did not know what to do. As our agent in the other state did not have an answer, we called Denise. Her advice proved true and we ended up with a great situation for ourselves. She is amazing.

Denise's assistant was prompt and very helpful in all our communications during the sale process. We could not be more pleased.

If anyone is moving to Spokane or selling their home, I would strongly recommend they contact Denise Fox and ask her to be their agent. We received 4 offers for our home within hours of it hitting the market because of her marketing plan. Those 4 offers were confusing to us as they all had different aspects that were positive and negative. She helped us understand which offers gave us the best benefit. We were always her first priority in the sale of our home. Denise is an agent who does not worry about her commission. She only worries about her customers' needs.
---
---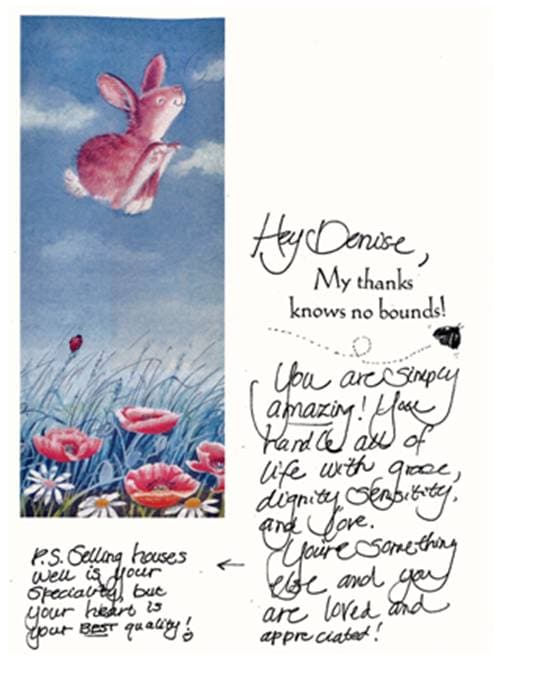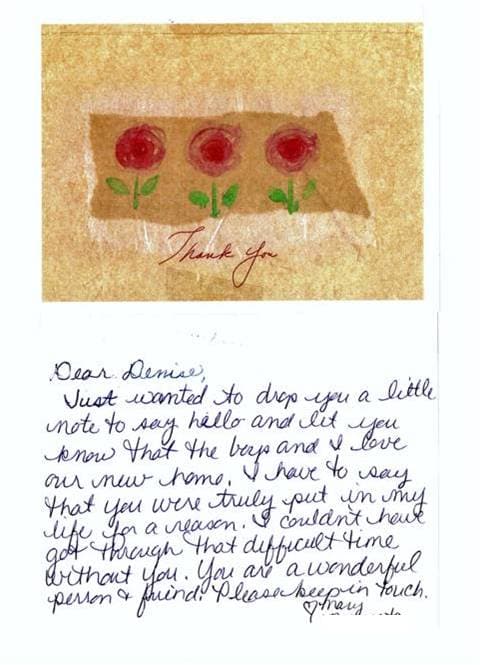 ---
We recently closed on our new home in Spokane and are extremely grateful for the professional help of our agent, Sue Wolford. The transition was extremely difficult and demanded an inordinate amount of time to make it possible for the process to be successful. Sue was always available and kept us informed. There were days when I wondered if she had time for any other clients, yet I never felt that she resented the extra effort she was required to make. My husband and I consider ourselves very lucky to have worked with Sue, and would highly recommend her expertise and work ethic to any other clients looking for a home. You are fortunate to have Sue representing Century 21 Beutler and Associates.
---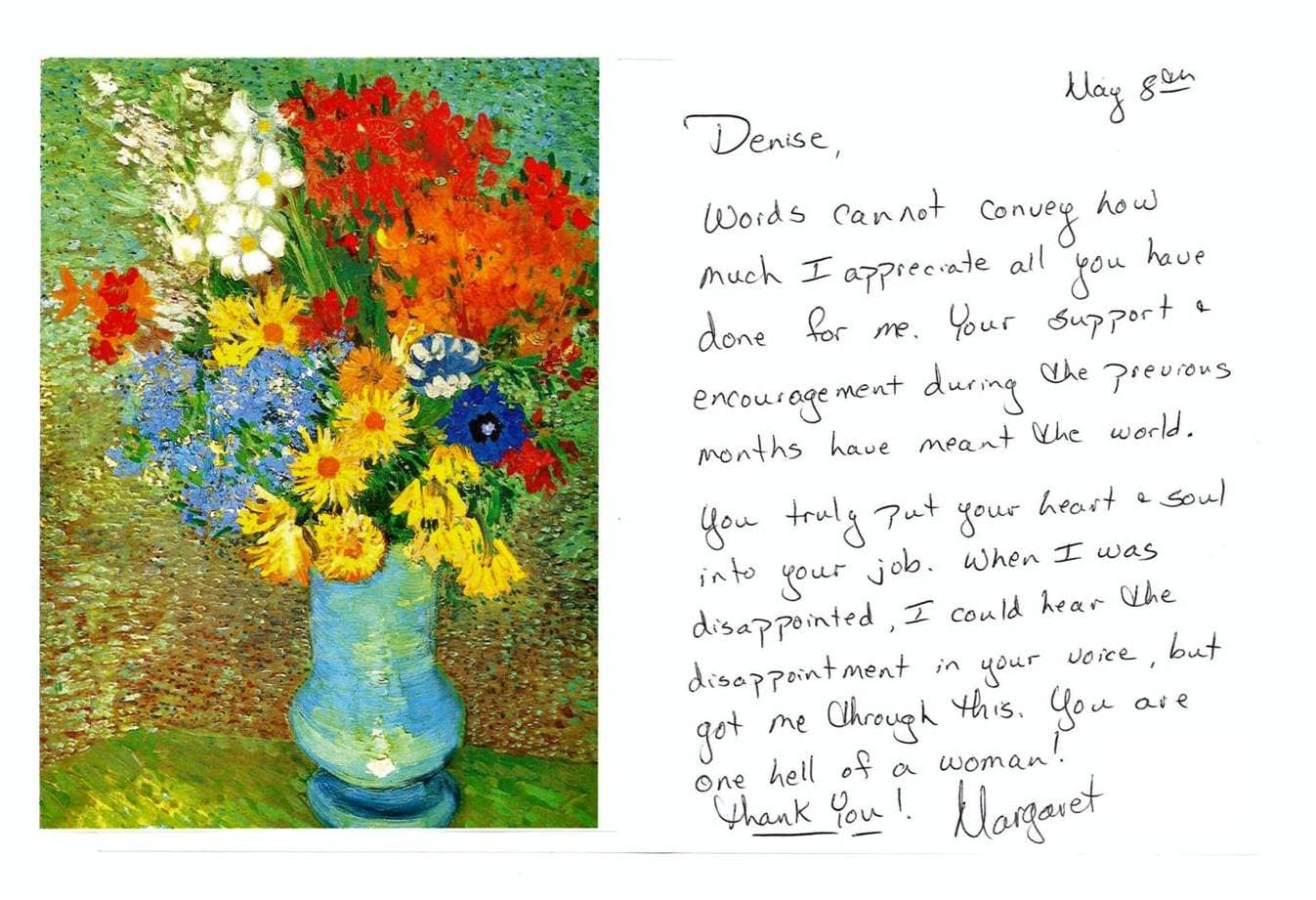 ---
---
Denise, Just a note to tell you that your reputation proceeds you, when that each person that I talk to about selling our house questions us about who our Realtor is. When I say Denise Fox they either have heard of you or know you personally. They marvel at your ability to sell a house in this economy. You and your team did an excellent job.
Thank you so much for making the sale of mom and dad's house go so smoothly. You are friendly yet professional and efficient in your interactions. We appreciated your opinions derived from your experience. Every time we drive by the for sale sign I am so happy that the house is sold and that we don't have to deal with it anymore.
Dear Denise, just wanted to drop you a little note to say hello and let you know that the boys and I love our new home. I have to say that you were truly put in my life for a reason. I couldn't have got through the difficult time without you. You are a wonderful person and friend, please keep in touch.
---
Denise Fox was professional and exact in getting what we needed accomplished. She had various names/numbers of people that needed to be contacted re estimates and appraisals and was able to call them directly to line up for services needed. We had various friends who are real estate agents but we needed someone who knew the area and market and could make this as seamless as possible. We needed her expertise!
Denise Fox was professional, personally engaged and very thorough with every aspect of the listing and sale of our home. The quality of the online listing is unparalleled. Top notch support and marketing staff. I would highly recommend their services.
If we ever decided to move again and Denise is still working, she and her staff are the only ones we would ever consider!

They say all good things take time and hard work, it seemed like an eternity and it was very hard work, however our house

sold and we found our dream home too!
---
Denise stays on top of the process from beginning to end, even is she's out of town. She makes sure you understand each document, and she answers all your questions. She is good at empathizing with any concerns plus being a sounding board while you reach a decision. Helpful but not pushy.

Denise sold my home a few months prior and I had committed to purchasing my next down-sized home through her office. Denise and her assistant Jodi work well together, communication is over the top great, they strive to give you all the attention you need during the sale or purchase process.

She got the job done and held my hand through the process – sold my home and assisted in my purchase of a downsized new townhouse.

I'm VERY happy!!!!

She's GREAT!!!! Her reputation in the area was what brought me to list with her and she was everything I needed and more. Loved working with a female realtor this time also. I believe we will have an ongoing relationship in the future.
---
I would highly recommended Denise Fox for anyone wanting a true professional to service their real estate needs.
I'd hate to think of selling that house without Denise working on it.
I would recommend Denise Fox to anyone either buying or selling their home.
---
Denise fox was very much a professional and a joy to work with making the whole sale of the house extremely easy to follow and understand and was always on top of everything . If you want the sale of your house to go smoothly then I would highly recommend you call Denise Fox it just doesn't get any better.
Denise was not only the consummate professional, but patient, kind , and compassionate with my situation. I have the utmost respect and admiration for her!
Denise Fox deserves the reputation that she has- "the best Realtor in Spokane!" This entire sale and process could not have happened without Denise Fox

I can't say enough about how professional Denise was and on top of everything. I could not have had a better realtor!
---
Denise Fox was referred to us by a very trusted friend. 'Trust' being the keyword. We were confident the friend had unquestionable trust in her so we called her without a moment's hesitation.

Her record precedes any comments I could make. Denise Fox is well known in Spokane for all of the above as I marked them, and more. We cannot say enough good things about her.

A special thank you to Patricia O'Callaghan for all her work in initially finding the house for us. She and Denise Fox are an unbeatable team. Also, a thank you to Jodi Person who is very efficient as her part of the group.

It couldn't have been better in any respect. We cannot thank Denise Fox, Patricia O'Callaghan, and Jodi Person enough for all the help and assistance offered us in the sale of our home in Spokane.
---
Wanted someone motivated to sell a property and then LISTEN to what we wanted to replace it with.

Denise covers every detail! Her knowledge of the real estate business gave us confidence that we were with the right company and definitely with the right agent.

Great experience!!! Professional with a very fun side.
Denise Fox worked very hard to sell this property. She handled so many details for me as I live 80 miles from Spokane. She had a goal to sell property by October 15th. It sold sooner than that date with 2 backup offers waiting if first clients changed their mind.

She is prompt at returning phone calls and text supplying the information requested and offering solutions to problems.
Denise Fox was an absolute pleasure to deal with. Her knowledge of the real estate market is top notch and she had the patience to deal with my special requirements regarding the showing of our home and special schedules. Denise tells it like it is, so, there is no guess work in the process…up front with every detail.

Thank you, Denise!
---
Denise is an awesome sales person. From the on set, Denise was timely and matter of fact on the things we would need to do to get maximum return on our endeavors. She had intimate knowledge of the area and what would give the most in terms of curb appeal and interest in the home. There were minimal "hick ups" in the entire process from start to finish. Thank you Denise for taking such good care of us.
In every aspect of this process, Denise was far and away better prepared, more thoughtful and forward-thinking, better connected with helpful services/contractors, and more ethical than any realtor I've dealt with. Selling and/or buying a home is one of my least favorite things to do, and she's the first realtor I felt I could truly rely on to have my best interests in mind (rather than her commission). I would not normally write a testimonial for this kind of thing unless my experience was truly exceptional, and working with Denise was a truly exceptional experience. I recommend her without reservation to anyone who wants essentially the best realtor in Spokane.
Denise was professional, knowledgable , efficient and organized. She was the perfect realtor for us, or anyone seeking the timely sale of their home. She was always available and always courteous. We loved our experience with her. We now feel that Denise is our good friend, not just our realtor. I would recommend her highly to family and friends. She's a treasure!
---
Denise Fox was an absolute gift to us. As a group of four siblings, we were preparing to sell our deceased parents' house and needed guidance and a plan. Denise quickly gave us a comprehensive plan and recommendations for resources to help with the tasks to be done. As we worked our way through that process, Denise was always happy to help us with questions. Once we prepared the house for sale, Denise was efficient and timely in making recommendations for the marketing plan. The house was listed and sold in less than 10 days!! Another significant benefit in working with Denise is her communication process. Although I am certain that she is tremendously busy, you would never know it when working with her. She ALWAYS answered her phone or immediately called back. Selling a house can be anxiety provoking, especially when information is not shared. Denise was in regular communication with us and we always felt up to date with what was going on during the selling process. And she ALWAYS made us feel like we were of utmost importance!! We felt highly valued by Denise! Denise is exemplary in her professionalism, knowledge, kindness and thoughtfulness; we could not have been happier with her and I will certainly recommend her to everyone that I know!!!
---
We would highly recommend Denise Fox and her team.

They were all excellent!
Denise Fox and her team are the best in town to work with! They are very knowledgeable and helpful in all areas in both selling and buying a home
Denise Fox did everything asked of her. Her price recommendations are the reason the house sold.
---
I enjoyed working with Denise she was always friendly and efficient.
Denise is very professional and honest realtor, we feel lucky to get her help!

Patricia O'Callaghan is a great realtor too! Denise and Patricia is an excellent team to help clients.
She pays attention to every detail and has years of experience behind her.
---
Denise is THE most professional and knowledgeable realtor. She makes us feel like we are her most important client. She is always on top of every issue that comes up and always provides us with practical and realistic solutions. There are not enough good things we could say about Denise. She is TOPS!!!

Denise is a pleasure to work with personally. She is warm and engaged and we always felt like she had our best interests at heart and would work tirelessly to accomplish our goals.

Denise's support staff is professional, always available to help answer questions and provides all the necessary documentation in a timely manner.

Sale could not have been handled more professionally. Denise's experience and dedication to her client's needs are unsurpassed.

I have recommended Denise to my friends and family and they have all had the same excellent results we have had with the sale of their properties.
---
I would highly recommend Denise and her team. Denise and her staff handle every need, making the sale a very smooth experience
Denise is the best in the business, I highly recommend her to any one. keep up the great work Denise, you are greatly appreciated for what you do and all your hard work. thank you
Denise, has sold two properties for us and I work recommend her to anyone. She is extremely honest trustworthy and responsive!
---
We had a great experience with Denise and her team. It was a unique home and it took a while to sell but they stayed on it the whole time and were nothing but professional, honest and friendly the entire time. I would recommend them to anyone.
We are very pleased with our work with Denise. She sold out home and then helped us buy our current home. She gets an A+ from us.
Denise sold my unit in just a few days, and it happened while I was in Mexico. It was a happy relief to return home and have everything taken care of.
---
Working with Denise Fox/CENTURY 21 Beutler & Associates, specifically Melissa Mayther, was a wonderful experience that went above and beyond our expectations. Melissa was professional, kind, considerate and cared about my getting my husband and me the home we wanted. Melissa took the time to explain every process to us numerous times, which as first time home buyers was crucial. She assured that the inspection process went smoothly, as well as made an extra effort to be sure that the items we had fixed were up to the standard we were comfortable with. I would absolutely recommend Denise Fox/CENTURY 21 Beutler & Associates to family and friends, with specific emphasis on working with Melissa Mayther. Thank you, Melissa, for making our first time buying experience everything we hoped and more.
---
DENISE Fox and her associate bent over backwards to make everything as easy for us as it could possibly be. She is a "class act" in every way and extremely knowledgable

as well as the most diligent person we have met in a while. We can't recommend her highly enough!
We are very pleased with our work with Denise. She sold out home and then helped us buy our current home. She gets an A+ from us.
Denise sold my unit in just a few days, and it happened while I was in Mexico. It was a happy relief to return home and have everything taken care of.
---
We had a great experience! We were referred to Denise Fox by a family friend. We called Denise after unsuccessfully trying to sell our home, I left her a message… And my phone call was returned promptly, while she was on vacation. She had her partner Patricia O'Callahan meet with us and after interviewing 2 great candidates before her, we hired her right on the spot. Patricia put together a great plan to sell our home, brought in their team to photograph my home, and sold it in 6 days… And before Denise returned from vacation. We had some scary issues come up with the property and neighbors, but both Denise and Patricia stood by our sides and helped us get thought the whole process. I highly recommend both Denise and Patricia, and if I ever need a realtor I know exactly who to call the first time!!!
---
Denise Fox is a truly professional realtor. I would absolutely recommend her services to friends and family.
We dealt with Denise many years ago and felt she was better qualified to handle the land and house/shops deal.

We like her and respect her and her knowledge!
Denise Fox and her whole team are the best in their profession and knowledge in all the real estate aspects. I wouldn't work with anyone else.
---
We very much enjoyed working with both Denise Fox and Patricia O'Callaghan. I knew of Denise's long-standing reputation for excellence and professionalism, and she recommended we work with Patricia as she was more readily available at the time we were looking, and had a great knowledge of the segment of the market of interest to us. Both Denise and Patricia were wonderful, a real pleasure to work with throughout the process. They were both very knowledgeable, friendly, professional, attentive and patient during our search for a new home, and during the process of completing the transaction. We felt at all times that we were in good hands and they gave us a feeling of complete confidence that we were getting the best information possible to help us make the right decisions all along the way.
---
As a result of my incredible experience selling my home, Denise has officially become my "Fairy Godmother." She took me in hand, gave me spectacular guidance, and advocated for me beyond the pale. I witnessed a level of wisdom and intuition that was so impressive.. she really is a "House Whisperer."

I have bought and sold close to 15 homes in various states and countries over the past 35 years. The recent sale of my personal home, made possible by Denise Fox, was the best real estate transaction I have ever experienced. I am deeply grateful.

Denise is incredibly authentic, as well as perceptive, very smart, and kind. Her ability to connect with me combined with her understanding of the unique nuances of my property were a very powerful and effective combination I knew I could trust. Hiring Denise Fox was the best decision I could have made.

A member of Denise's team, Jodi Person, was unbelievably adaptive, cooperative, and responsive every single time I had contact with her. She was a joy to work with.
---
She pays attention to every detail and has years of experience behind her.
Denise is the best in the business, I highly recommend her to any one. keep up the great work Denise, you are greatly appreciated for what you do and all your hard work. thank you!
Denise, has sold two properties for us and I work recommend her to anyone. She is extremely honest trustworthy and responsive!
---
I interviewed six Realtors before I found Denise Fox. I wanted someone that was great on marketing, that was assertive without being overbearing, that had great people skills and had the ability to move people and processes ahead. I felt like Denise Fox met all those requirements. She also protected us when the sale became mired down and kept us well informed.

We have sold several homes, Denise Fox is top notch in our book. I will call her for future real estate transactions in the Spokane area should we purchase property there at a later date.

Our closing was complicated due to the buyer selling their home, vacations and transaction delays on the buyers side. Denise had everything ready to go, when their deal closed ours was ready to be submitted and went through immediately without a hitch. We needed some advice on this sale, Denise gave us options without pushing us in any specific direction.
---
Denise Fox was very knowledgeable and respectful through out the whole process of selling my home. Denise earned my respect at our first meeting by asking me all the right questions about the property. She listened and understood what was important to me for this sale. I knew that I could trust her from the very start. I wanted an honest home appraisal and she delivered with great explanations and comparisons. Denise and her team did a great job communicating with me by phone, e-mail, and texting allowing me to always know what was happening. I felt that she was looking out for my best intrest by going over every detail about the property and the sale. Denise Fox is very professional, knowledgeable, trustworthy, and above all, friendly.
---
We knew of Denise's reputation for being a go-getter but she had not sold a home for us personally; only to an elderly family member. We trusted her expertise and handling of all matters for the sale of our home and the search for another home. She was on top of it all the way. There are so many aspects to selling a home and hopefully getting the price you feel it is worth. Denise guided us so well in this way. Her explanations and suggestions for readying the home and what to expect made so much sense. She ALWAYS responded to all of our questions and concerns along right away.

We really felt we were in good hands. She knows this business, no doubt. Selling your home is stressful. She provided many names of contractors, should we need them, all of whom were high quality and very affordable. Through her contacts, she found a buyer looking to put their own signature on remodeling; which enabled us to have to do only minimal things to ready the house for sale. We ended up with a very fair price and very smooth experience. Lastly, Denise has an honest and friendly personality — she was a delight to work with!
---
I believe it takes an especially compassionate and empathetic person to be a real estate agent. The sale of my home derived from a divorce. Denise was sensitive to my needs and communicated with my ex husband to make the sale happen. She acted at all times with a sensitive yet impartial approach. Due to the size of the home, it took over a year to sale. She was patient with us both and when the offer did come in, she guided us through the sale smoothly. She was empathetic and had both the sellers and buyers best interest at heart. I trusted her to sell my house and she delivered as promised. I am so grateful that she was my agent. I look forward to buying my next home with Denise's help. Thank you Denise!
---
From the first time, I spoke to Denise on the telephone, she was so nice and understanding and helpful. Her patience with me was incredible. I was not an easy Seller. She was always available, and friendly, and returned emails, or texts, or phone calls, immediately. She explained every thing thoroughly. I received feed back on all the clients and realtors that came through our home. I always felt like I was important to Denise. She didn't list my home, and then forget about me. She was in constant communication and kept me updated. Again, I was a difficult Seller. I appreciate her kindness and patience. She's incredible. I would recommend her to all my friends and family. Thank you.
---
Denise was one of three Realtors interviewed for this listing and was the successful broker based upon her professional approach to the marketing and realistic listing price of our home. We also liked the idea of Century 21 being a nationally recognized Real Estate firm.

Excellent communicator.

Our online video presentation was professionally prepared. We received multiple positive comments from friends who viewed the video.
---
Denise sold my lot that had been for sale off and on for 12 years. She was through and patient with buyers and I love her humor.